My Personal Bonsai and Rock Garden Gallery......2005 Photos
Here are some pictures of my bonsai collections at Marfrancisco, Pinamalayan, Oriental Mindoro, Philippines.
BONSAI AND ROCK COLLECTIONS
AT HOME
INTRODUCTION
My simple serene Bonsai Garden is situated in my homeyard at Teacher's Village, Marfrancisco, Pinmamalayan, Oriental Mindoro, Philippines. My own personal collection of bonsai and saikei numbers just about more than fifty, that is, not counting several other trees which are not yet on pot. My collection includes several varieties of ficus (locally called "balete") including the green, red and white leaf ones, "Kalyos" (Streblus Asper), Bucida Spinosa (dwarf black olive), Tamarind, Wild Tea, Junipers, Cypress, "Mulawin", and other trees that I am not sure of what species.
My fascination in the unique living art of bonsai started a long time ago. Yet, I formally began indulging myself, devoting lots of rewarding hours, spending much efforts and some hard-earned money in practicing and gradually learning the art, barely two years ago. To be exact, I trained my first tree on June 12, 2003, that is the Philippine Independence Day Celebration, and we are on a national holiday. Of course, I have trees which are quite much older than my training experience.
We have a newly organized local Bonsai Club with more than twenty active members. Some of our older members, I may say, are really good bonsai experts and have long years of experience. And, you bet, they have awesome collections of fascinating trees,
At present, the art, trees and garden is merely a hobby for me. We are quite lucky here in our locality for we have abundant supplies of planting materials. We are also very adjacent to the seashores hence we freely get white sand, pebbles, corals, rocks and other materials for landscaping our works. Commercially, so far, I am yet to sell my first bonsai, perhaps if I decide to do so soon. Well, maybe if the price is quite hard to resist. We can be both a collector and a businessman as well sometimes, who knows.
Bonsai is a living art. Its complexities spell the great difference. It's an expression of our visions, an extension of our personalities. The art is a never ending learning process. They (bonsai masters) were right in saying, "...years of training and everytime you'll still commit mistakes." If one of your trees dies, don't be depressed. It's always part of learning the art.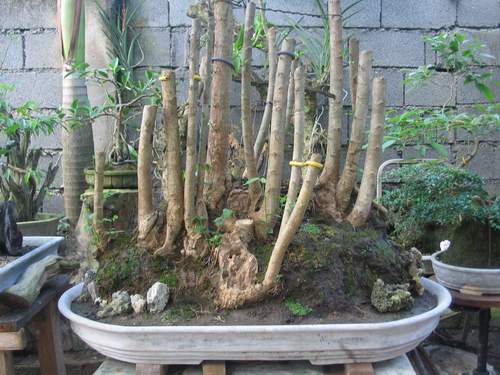 AMAZON JUNGLE / A "Kalyos" (Streblus Asper) congested forest, Amazon Jungle originally has eighteen trunks when acquired on September 25, 2005. It was potted on October 2, 2005 and two of the trunks were then cut. A tropical rainforest setting was set as theme of the living art, hence, it was named "Amazon Jungle" (from the famous Amazon rainforest of Africa).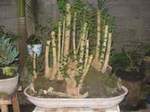 A more recent photo of Amazon Jungle. Notice the abundant sprout of new leaves.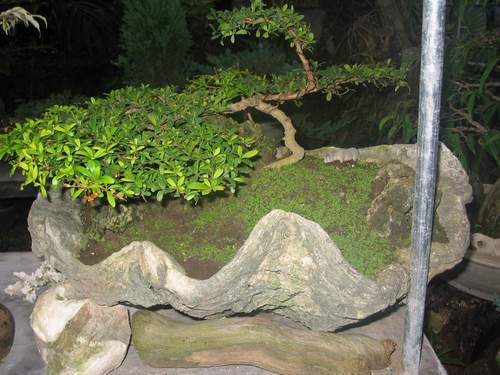 VERDE ISLAND / A Bucida Spinosa planted and trained from a little seedling. A prehistoric shell taken from the mountain was used as pot for this bonsai. It was potted and landscaped with moss on February 20, 2005. It was named after a small islet between the island of Mindoro and Batangas. The shell pot is quite heavy approximately weighing 30 or more kilos.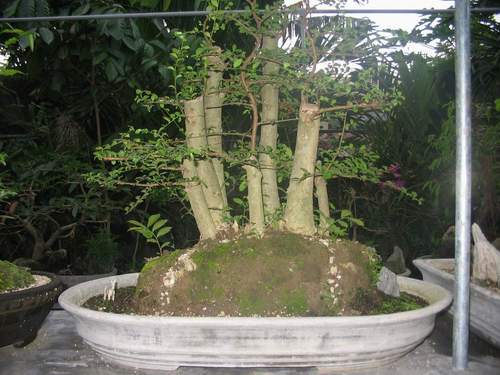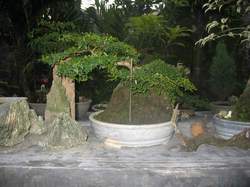 SEVEN PEOPLE / Another one of my 'Kalyos'(Streblus Asper) Mini- Forest bought from the same source, this pretty bonsai material was completed on September 4, 2005 using a slightly bigger pot. This picture was shot barely two months later after finishing the landscape.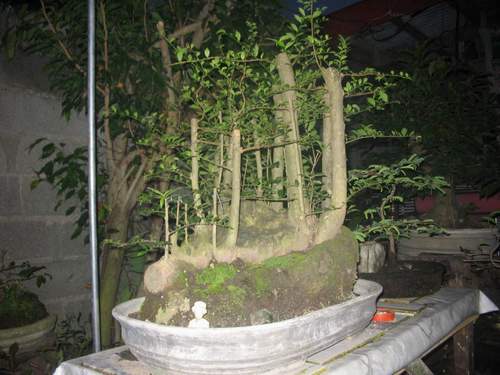 EVERGREEN VALLEY / Bucida Spinosa on rock, covered with green moss and planted on a 15 inch diameter and 2.5 inch tall round marble pot from Romblon.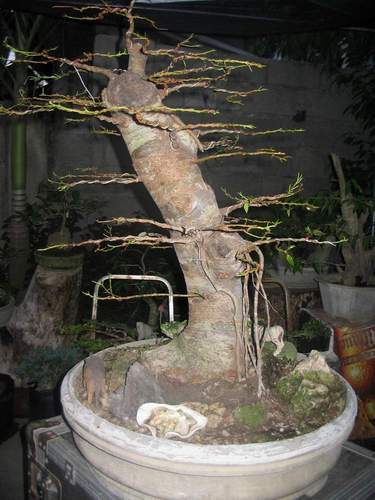 VIRGIN ISLAND / Another 'Kalyos' (Streblus Asper) trained as a miniature forest. It was potted and landscaped on August 13, 2005, a day earlier than Enchanted Forest. The material was also from Mansalay. Similar with the latter, all the trees are actually offshoots of one big root. Labeled "Virgin Island" because the work depicts the serenity and natural beauty of an island surrounded by white sand beaches, This elevated forest is smaller than 'Enchanted Forest' with the following pot dimension 25 inches L x 18 inches W x 2.5 inches T. Interestingly, there are so many trees of so many sizes to choose from.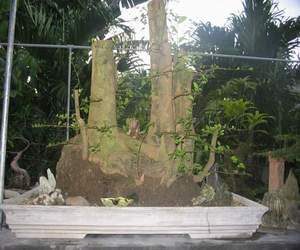 FIRELEAF GOLIATH / A large trunk red ficus variety, this heavy bonsai tree follows the familiar slanting style. It is planted on a big round cement pot about five inches deep. The tree measures 34 inches tall from base to the apex.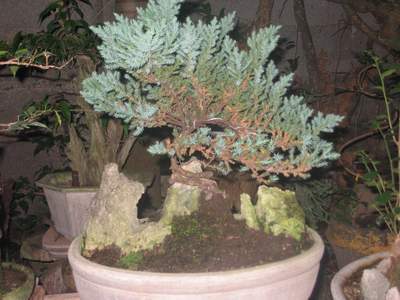 ENCHANTED FOREST / A huge rainforest landscape of Streblus Asper, locally known as 'Kalyos', which was purchased from a supplier of bonsai planting materials from the distant town of Mansalay. The large rectangular pot measuring 3 ft.(L) x 20 inches (W) was purposely made by a fellow bonsai enthusiast. The tip of the tallest trunk measures 31 inches from the base. This precious work of art and nature was potted on August 14, 2005, exactly two weeks before these pictures were taken. It was an exhausting job potting and landscaping the trees which literally took almost an entire day. Still, it was a rewarding end of the day looking at the fascinating view of the highly promising forest. Anyone shall be enchanted!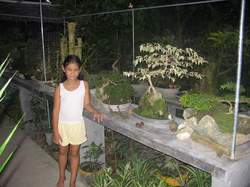 CHOKING JUNIPER / A young juniper (Procumbens 'Nana') potted in a cement oblong pot on June 5, 2005. A piece of the rocks used in its landscape came from Boracay. Look closely and notice the lower trunk seemingly strangling the tip of the island.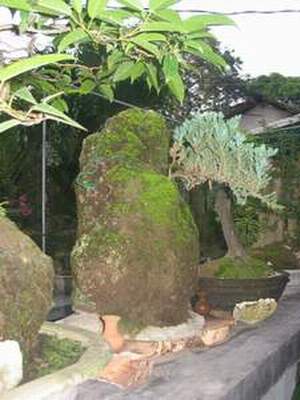 My eight-year old daughter Melorie poses with my bonsai garden at home.
CLIFFHANGER / A juniper planted on a large rock which was taken from the coastline of Ranzo. A mini-waterfall was curved along the side of the mountain (rock).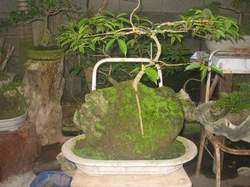 A picture of my trees in the former garden setting.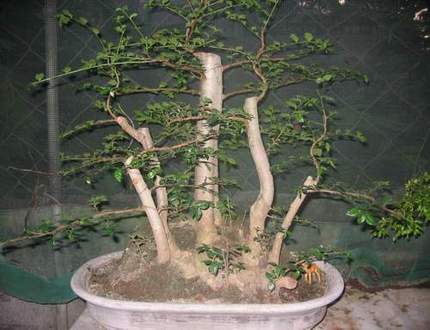 STRONGHOLD / Also belonging to the red ficus family, this tree started from a small seedling acquired in December 2003. It was later implanted on a large coral rock taken from Bulaklak beach, Pili. And finally, potted and landscaped with moss on August 22, 2004. Another informal upright on the rock using an oblong shallow cement pot, the view features a seemingly leaning mountain. In this picture, it's still a young tree approximately no more than three years old with only a year under training. As such, it has great potential for further development to becoming a fine bonsai.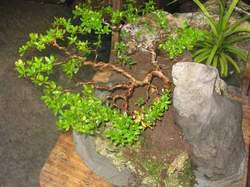 FIVE FINGERS / A 'Kalyos' (Streblus Asper) Mini- Forest bought from a bonsai material supplier from Mansalay. It was potted and landscaped on September 4, 2005 on a shallow and small oblong cement pot bought from a fellow bonsai gardener. Obviously, it got its name from its appearance with five major trunks resembling and positioned like the five fingers of a typical human hand.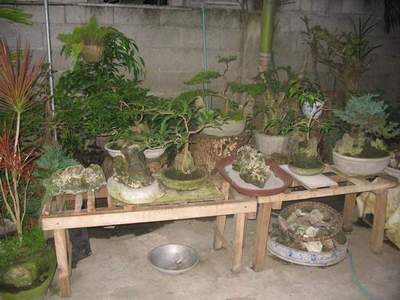 FORTRESS / Also a Bucida Spinosa, this tree is planted in a purposely cemented ensemble of assorted rocks of different shapes. It was arranged on May 3, 2005. A Semi-cascade style was chosen for this piece.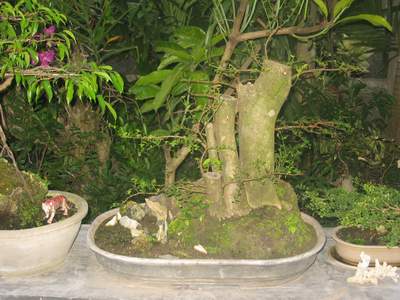 Some more trees and interesting rocks (suiseki) gathered from coastal areas and other sources within the locality.
FAMILY TREE / A Streblus Asper (Kalyos) with four big trunks as against the common rule against even number, each tree represents a member of my family. The biggest trunk representing me, the second immediately beside it- my wife, the third being tall but thinner- my son, Meldric who is shown in the picture, and the fourth and shortest trunk- my daughter. Bought from a fellow member of our bonsai club, this tree was potted on August 29, 2005, two days after my 38th birthday.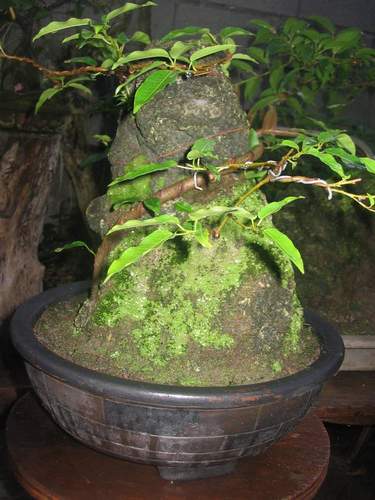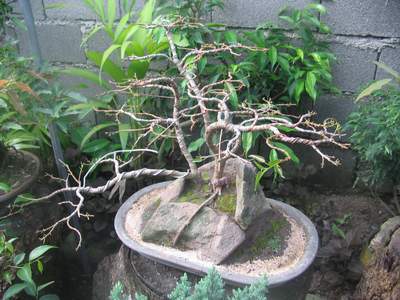 RED CONSTRICTOR / This is a red ficus variety with leaves often mistaken with that of a mango by a common observer, but of course, much smaller. This is a very young tree being only a few months old in this picture. It was potted on July 27, 2005 and named Red Constrictor because it appears to be constricting the tall rock (Mountain). The rich green moss add more accent to the landscape. A round ceramic pot was used to fit its all-angle view. Frankly speaking, I really don't know what style it follows. It's somewhat similar to the Driftwood discipline but honestly, it was crafted out of my own original idea.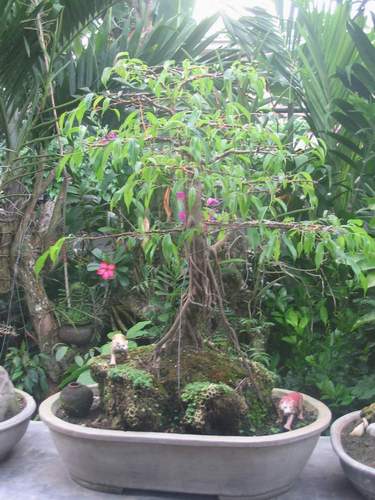 ROCKY MOUNTAIN PARK / A red ficus variety originally planted on December 31, 2003 on a rock ensemble. It was repotted on September 11, 2005 on a shallower pot following the accidental breakage of the former pot.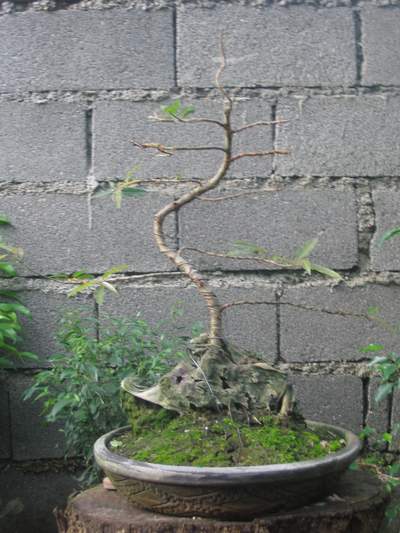 NALDO'S TREE / A common variety of the ficus family, this tree was taken from the roof of a barangay hall sometime in the early nineties on one of our community consultation and visitation. I asked one of my officemate to climb the roof and pull the young tree. I left it in the residence of my mother planted in a plastic container for several years. Later, when my enthusiasm for the bonsai art came back, I took it and trained it. On April 8, 2004 I put it in a large oblong cement pot bought from the nearby town of Socorro. The big coral used in this landscape was taken from El Capitan beach resort, Bongabon. The bonsai was named after the nickname of the person who picked the tree for me, Naldo.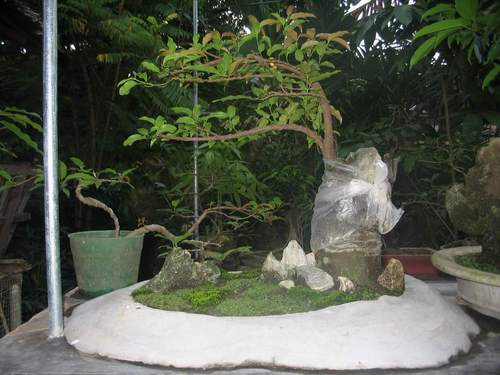 A different variety of the red ficus family, this tree was taken from the trunk of a coconut tree in Sabang, Puerto Galera on June 26, 2004 during one of the gigs of my band, the Asia Band. It was by then a young tree probably a sprout from a seed that accidentally fell on the tree cavity. It was potted on May 19, 2005, barely a year after bringing it home with my collections. A shallow round clay pot was chosen for this fancy dancing-stem form attached to a rock. It was newly trimmed in this picture,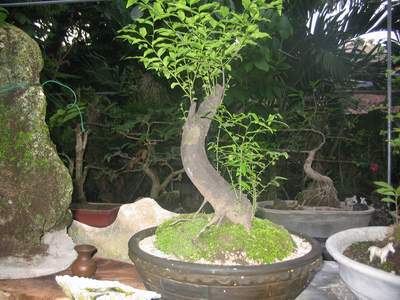 DANCING WITH THE WIND / This tree is my first Windswept style bonsai. A red top ficus which is a very common variety in our area was implanted on a rock. Two different kinds of moss were used to complement the rock arrangements portraying a small island amidst the strong wind. At first I thought of naming this piece "Katrina" commemorating the devastating hurricane that struck the USA in 2005.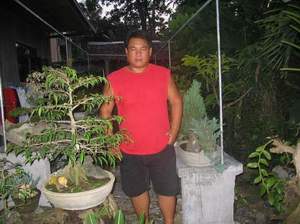 BLACK CINDERELLA / This unknown tree was sold by a supplier of bonsai materials from Mansalay. Its wood is black and quite hard while the leaves are fine.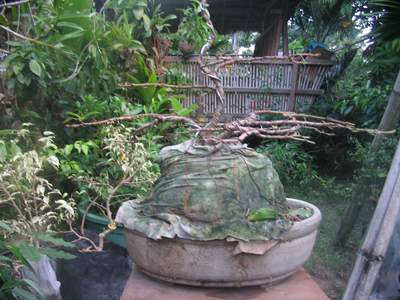 It's me with my bonsai garden.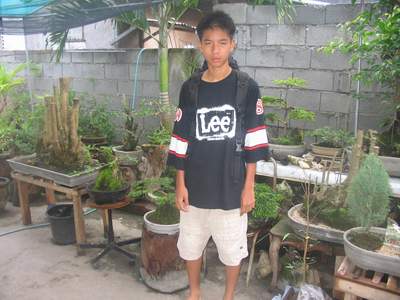 BORACAY ISLAND / A red top ficus variety (locally known as "balete") planted on a rock on 2003 starting from a cut branch, it was originally planted on May 10, 2004 after I returned from my first trip from the beautiful island of Boracay. The tree was later repotted on June 19, 2005 and afterwards re-styled. This tree is trained in the informal upright on the rock style. In the two photos, the front and back angles are both featured.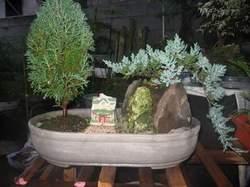 My son, Meldric posing with the bonsai trees at home.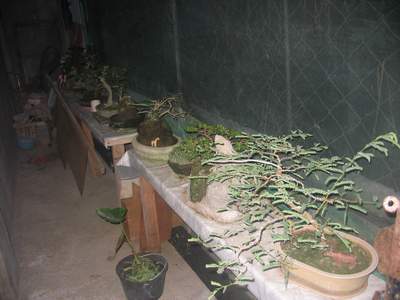 Juniper (Procumbens nana) potted on cement oblong pot.
Some more trees at the backyard. Sampaloc (Tamarind) and various ficus varieties.